Claremont Kissimmee Hotel - Orlando
Claremont Kissimmee Hotel - Orlando
28.33530109270453

,

-81.52497857809067
$

$$$
|
View on map
Orlando

,

United States
|
Reservation:
+1-855-260-7038
|
26 photos
29US$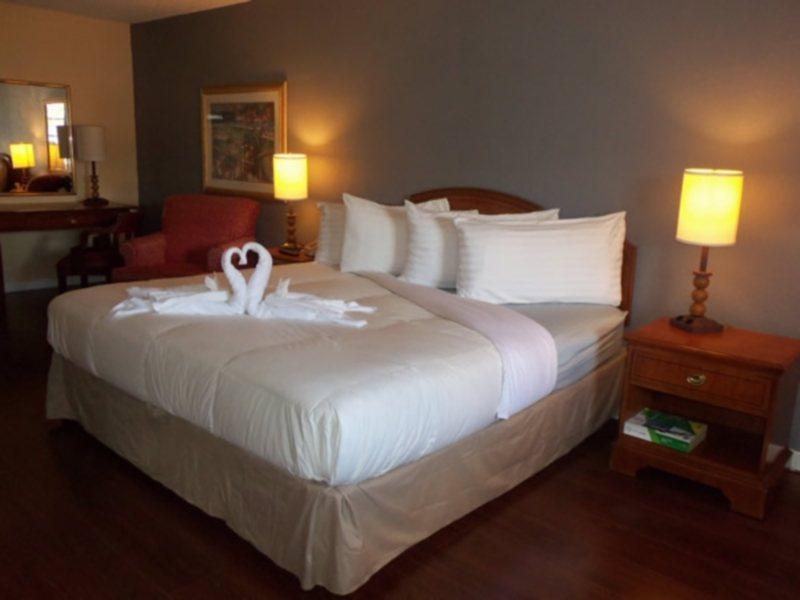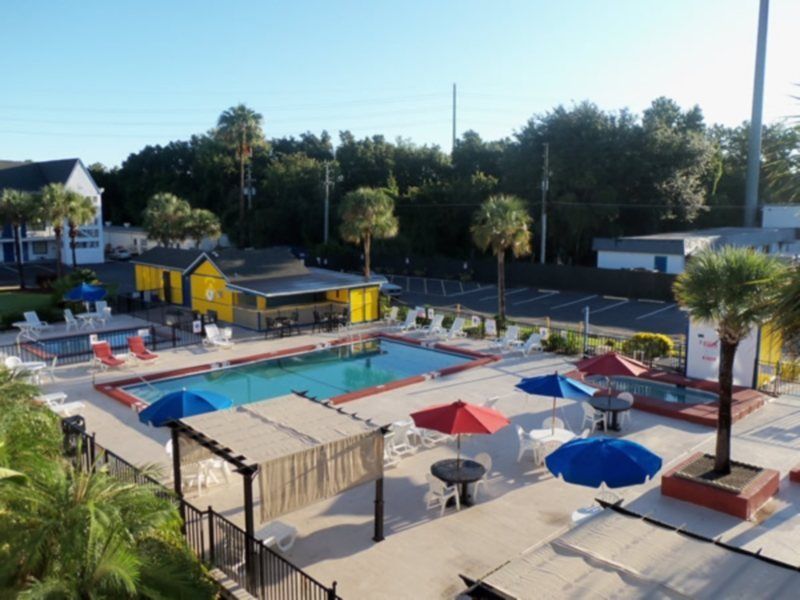 Claremont Kissimmee Hotel - Orlando
Overview
The welcoming Claremont Kissimee is situated in the Celebration district of Kissimmee, 20 minutes by foot from such family venues as Fun Spot America Kissimmee Amusement Park.
Location
Located 5 minutes' stroll from ICE at Gaylord Palms Museum, this 2-star hotel is set within 1.1 miles of Old Town. The hotel is within walking distance of Everglades in Kissimmee. The Kissimmee property is located minutes' driving from Animal Kingdom Theme Park. There is ESPN Wide World of Sports Complex 10 minutes' drive away, while Bonnet Creek bus station merely 10 minutes' walk from the Kissimmee hotel.
Claremont Kissimee in Kissimmee is a 29-minute drive from Orlando International airport.
Eat & Drink
Dining options also include Disney's Hollywood Studios, set a 10-minute drive from the accommodation.
Good to know
Amenities
Public parking is possible on site for free.
Wireless internet is available in the entire hotel for free.
Other information
Breakfast
The hotel Claremont Kissimmee provides visitors with a free continental breakfast. 
Children & extra beds
One child
0 - 2 years
Crib
FREE
Existing beds
FREE
All children
3 - 16 years
Existing beds
FREE
Extra bed
us$ 10
Children above
16 years or adults
Extra bed
us$ 10
Maximum capacity of extra beds in a room is 1. 
Former name
Howard Johnson Inn Kissimmee Maingate East
Facilities
Room features
Air conditioning
In-room safe
Show all facilities
Hide facilities
Essential information about Claremont Kissimmee Hotel
| | |
| --- | --- |
| 💵 Lowest room price | 29 US$ |
| 📏 Distance to center | 16.0 mi |
| 🗺️ Location rating | 7.8 |
| ✈️ Distance to airport | 20.4 mi |
| 🧳 Nearest airport | Orlando International, MCO |
Location
Address
The address has been copied.
6051 West Irlo Bronson Memorial Highway
,
Orlando
,
Florida
,
United States
,
34747
,Florida
6051 West Irlo Bronson Memorial Highway
,
Orlando
,
Florida
,
United States
,
34747
,Florida
City landmarks
Nearby
Restaurants
Hotels nearby
5770 W Irlo Bronson Memorial Hwy
2850 Florida Plaza Blvd
Local amusement parks
1.8 mi
Convention Centre
Gaylord Palms Resort & Convention Center
100 yd
Amusement Park
Walt Disney World Resort
3.8 mi
Theme Park
Fun Spot America Kissimmee
1.8 mi
Golf Course
Falcon's Fire Golf Course
1.4 mi
351 South Studio Drive Streets of America
Disney's Hollywood Studios
2.6 mi
5770 W Irlo Bronson Memorial Hwy
Mortem Manor Haunted Attraction
1.8 mi
Amusement Park
Disney's Typhoon Lagoon Water Park
2.1 mi
Store
Publix Super Market at Water Tower Shoppes
100 yd
Arabian Nights Dinner Atrctn
100 yd
5825 W Irlo Bronson Memorial Hwy
Machine Gun America
100 yd
Disney's Animal Kingdom
100 yd
5770 W Irlo Bronson Memorial Hwy
Old Town Sling Shot
100 yd
Kissimmee
ICE at Gaylord Palms
100 yd
Kid's Trampoline Fun
100 yd
Happy Days Family Fun Track
200 yd
Happy Days Bumper Cars
200 yd
Legends: A Haunting at Old Town
200 yd
5770 W Irlo Bronson Memorial Hwy #400
The Great Magic Hall
200 yd
Rockstar Spinning Coaster
200 yd
Theme Park
Happy Days Family Amusement Center
200 yd
Store
Publix Super Market at Water Tower Shoppes
100 yd
Restaurant
Little Greek Fresh Grill
100 yd
Restaurant
Tropical Smoothie Cafe
100 yd
Restaurant
Twistee Treat Celebration
200 yd
Reviews of Claremont Kissimmee Hotel
Share your experience with us.
Write a Review
missing

Location

The staff was rude and unaccommodating, the room was dirty and the bathtub did not drain leaving you and the next showering person ankle- deep in soapy water. At check in we planned to stay another night and the staff member said it would take him about an hour to extend our stay in the same room yet when we called to reconfirm the next morning we were told that our stay was not extended and there are no more rooms available.

missing

It is clean comfortable and very close to parks. It is for those people who dont plan to stay alot in room. My husband and I just need place to rest at night and shower. close to shopping. Great price. IHOP next door great food

we were in far building if I were not with my husband was dark at night no security would not recommend that building for women alone .

missing

Location

Floors were filthy and made white socks black.

missing

Location

Breakfast and lack of cleaning

missing

The hotel was less than a mile from our destination.

The check-in process was slow due to staff's lack of knowledge of the Booked.net process for their hotel. The first room we were put into had significant water damage to the bathroom and the tiles were falling off the wall. The staff were very nice but it took a very long time to get the rooms switched. The free continental breakfast was nothing more than a vending machine smorgasboard with 3 options.

missing

Location

Filthy, rusty fittings, dead spiders, unhelpfull staff, just the worst place ever, and we book a delux room!

missing

Everything was increadable ! We had an amazing trip. Location was very nice - Publix across the street, and many other shops, food and activities. Every staff member was polite and curtious. We stayed for almost a whole week. Pool was Fabulous - actually heated. Rooms were clean. Every room is now non-smoking. I can honestly say this hotel still believes in customer service and made our family vacation unforgetable !! Thank you Claremont - Kissimmee

There is nothing bad about this hotel or its staff - and if you have a problem they bend over backwards to make you happy :)

missing

Clean and comfortable. Easy check in and out. Close to major attractions in area. Great value!

missing

The price....

Service sucked. When we got to the hotel that night, we called done to ask for some wash clothes and was told that house keeping was gone so we had to wait till in the morning. When the morning came and house keeping came by to ask if we needed anything and we told them we need wash clothes, they told us they didnt have nay and to call down to the front office later and ask for some, so we took a bath for the whole weekend with hand towels.

missing

I like its closed to the parks.. It's a good location

I stayed in the hotel for 9 nights and never change the sheet.. I asked for that and sayed that not have sheet available.. Not good service.. I notify the room smell like a gas and they says its because the laundry machine working with gas.. I never come back to this hotel..

missing

I was told I had wi-fi but never was able to log on . The bed was pitiful sheets were short sheeted the mattress needs to be thrown away the mattress pad was terrible all cut up

missing

Good value rooms,shame about smell in lobby

Smell in lobby

missing

Staff very nice, breakfast very good and included. The room's floor is made of wood, and is very clean, they don't have that disgusting carpets...for who has allergies, Claremont is perfect. The white pillows in the bed shows how clean it is. I really recommend this hotel. I had an excellent experience there, since I was visiting Disney World and wanted a clean and comfortable place to overnight, with low cost and good breakfast. Perfect!

missing

The staff was nice and the breakfast was good.

i did not like that my room had roaches!

missing

Hotel staff attitude was bad, missed few times to my morning calls! Hotel breakfast ..... Only coffee offered n doesnt taste coffee at all . When I choose this hotel through Internet , my understanding is this claim to be HOTEL was not up to my expectations of the grading shown in Internet. Upon our arrival after check in at counter , we were assigned to other block on 2 nd floor but the keys were not working so I had to go back to counter for replacement,.

Services was bad , during our stay , hotel phone n i wifi was down n staff insist they made morning according to my request,
FAQ about Claremont Kissimmee Hotel
Which facilities are included in the rooms at Claremont Kissimmee Hotel?
Some rooms of Claremont Kissimmee Hotel welcome guests with the following facilities:
coffee and tea making equipment
TV
climate control
Is swimming pool available at the welcoming 2-star Claremont Kissimmee Hotel?
Yes, the welcoming 2-star Claremont Kissimmee Hotel features a swimming pool.
Best-Rated Howard Johnson Plazas, Hotels, Inns, and Express Inns Hotels around Orlando
Howard Johnson Plazas, Hotels, Inns, and Express Inns are synonymous with premium hospitality services that cater to discerning travelers. From top-notch amenities to exceptional facilities, this brand has consistently delivered on its promise of providing impeccable experiences to guests. Whether it's a luxurious vacation or a quick business trip, patrons can expect unparalleled comfort, convenience, and attention to detail. Howard Johnson Plazas, Hotels, Inns, and Express Inns - where hospitality meets excellence.
93 reviews

47$ / night

1456 reviews

46$ / night

391 reviews

30$ / night

785 reviews

35$ / night

410 reviews

80$ / night

216 reviews

56$ / night

76 reviews

55$ / night

108 reviews

82$ / night